4 Magnetic Therapeutic Wraps

Every black bead is magnetic and you can configure the wraps to be necklaces, chokers, anklets, or bracelets. Below is a selection of the wraps we offer for sale.
To view our wraps, scroll down the page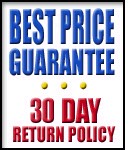 To order, select the color wrap you want and click on the "Add To Cart" button and you will be taken to our secure PayPal Shopping Cart for checkout, where you can use your credit card to complete the purchase. If you whish to purchase by alternative method, please review the comments at the bottom of this page.
[ Bracelets ] [ Necklaces ] [ Anklets ] [ Pet Collars ]